Archive for the 'Uncategorized' Category
Thursday, November 16th, 2017
Matters of Community (MOC) is holding its 11th annual Charity Dinner Dance fundraiser on Saturday December 16th 2017 at the newly constructed Royal Palace Banquet & Event Center in Fremont, California. This event will raise funds for numerous special needs projects being undertaken in collaboration with several organizations nationally and internationally.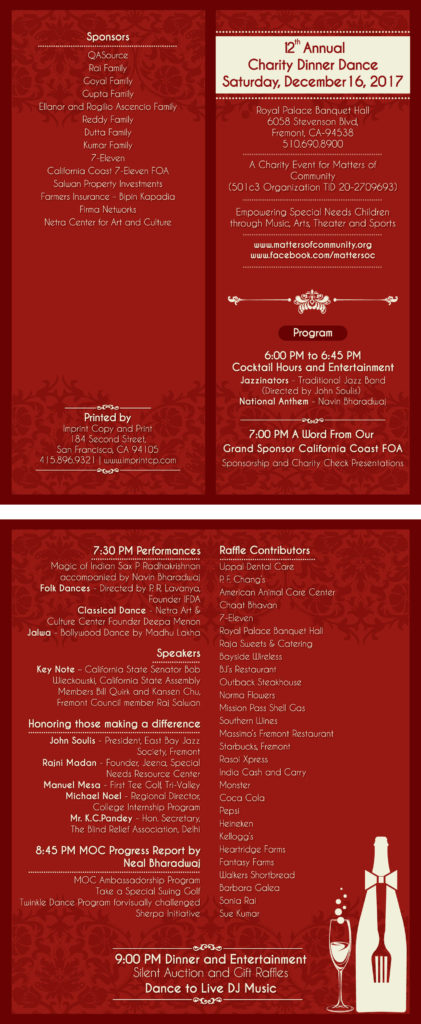 The fundraiser will be attended by many generous donors, and community and business leaders. Several state and city elected leaders such as California State Senator Bob Wieckowski, California State Assembly members Bill Quirk and Kansen Chu, and Fremont City Planning Commissioner Dr Raj Salwan are also expected to attend.
The evening entertainment will showcase an original composition of Indian Rhythms by Dr Rohan Krishnamurthy, a music professor at the Ohlone Community College, a Jazz band performance Jazzinators from the Jazz society and Jeena Creations a Rock Band conducted by Navin Bharadwaj. The evening will also feature India Classical Dance by Deepa Menon, the founder director of Netra Art and Dance Center in Foster City and a high energy Bollywood Punjabi dance performance called Jalwa by Madhu Lakha, Newark Memorial junior among others.
The event raise funds for several local charities and will recognize the contribution of several community leaders such as John Soulis, President East Bay Traditional Jazz Society, Jeena Founder Rajni Madan, CIP World Wide Communication Director Sara Williams, and the Vice President of Friends of Children of Special Needs (FCSN) Anna Wang.
This year, MOC is launching two new programs, one called Twinkle at Delhi Blind Relief in India to teach dance to visually impaired children and second is a year-long collaboration with First Tee Tri-Valley Golf, called Take a Special Swing to help special needs kids play golf.
Here are the details of the program for the evening.